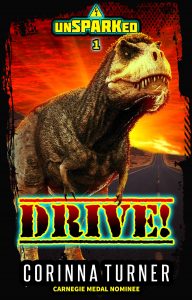 Carol's scream assaults my ears, even as I'm bringing the gun round… I fire, hitting the raptor in the tail as it darts away… No time to check on Carol, I turn again… the pack matriarch is busy ripping the grille back from Harry's window…
One gun's enough, is it, Dad? Really? We have so had it…
IN DARRYL'S WORLD, THE WILDLIFE IS RATHER……WILD!
When Darryl's Dad suddenly remarries, she and her brother Harry are taken completely by surprise. Their new step-mom is a glamorous fashion designer who's never been outside the city fence in her life. How will she cope with a life of dinosaur farming?
Still, they try to make up their minds to be welcoming.
But first, Darryl's Dad needs to get his new bride safely to the farm.
And things don't go quite to plan…
The first in a fantastically fun novella series from the Carnegie Medal Nominated author of the I AM MARGARET books.
Get it HERE (UK)
Get it HERE (US)
Or from Barnes & Noble…
…or anywhere that sells books!
Get the free DISCUSSION QUESTIONS HERE.
Or click HERE for videos of DRIVE! read by the Author.
PRAISE FOR DRIVE!
What a terrifying futuristic world Turner has created! I am a huge fan of this author and am always impressed with how different all her stories are. Look forward to the next one in this series!
LESLEA WAHL, author of award-winning The Perfect Blindside
A cross between Jurassic World and Mad Max! Fun, fast paced. And sets up an incredible new world. I read it three times in two days!
STEVEN R MCEVOY, BookReviewsAndMore Blogger and Amazon Top 1000 Reviewer
Very short, but extremely exciting. … The action is brutal, but it drags you in and doesn't let you go until you hit the last page. 
ASHLEY STANGL
Jurassic Park fans will love this short!
CAROLYN ASTFALK, author of Rightfully Ours