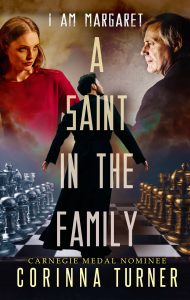 FAITH.
FORGIVENESS.
FREEDOM.
Fr. Kyle Verrall has lived his life in the shadow of his famous sister, Margaret—and that's fine by him. But after his kidnapping by Reginald Hill, he must learn to cope not only with his physical injuries, but also with his unwelcome new popularity. Meanwhile, Margaret continues her fight for true democracy. But can she practise what she preaches and forgive her oldest enemy?
This volume contains two novellas, A SAINT IN THE FAMILY and PERSISTENCE, which follow on from the events of THE SIEGE OF REGINALD HILL. It also includes five short stories.
Contents:
'The Underappreciated Virtues of Green-fingered Monsters'
'Birthday Secrets'
'An Unexpected Guest'
'Buttons'
A SAINT IN THE FAMILY: A Novella
'True to Form'
PERSISTENCE: A Novella
'An Unlikely Comforter'
PRAISE FOR A SAINT IN THE FAMILY
A very powerful collection. I do not produce a lot of tears, but this volume brought me to tears more than once. Persistence had the deepest impact on me. I have really struggled to forgive my mother. And it was almost 8 years after she passed before I had Masses said for her. It was a book by Theresa Linden, Tortured Soul, which softened my heart, and started a healing process. The story Persistence has softened it a lot more.
STEVEN R. MCEVOY, blogger, BookReviewsAndMore.ca
A fantastic collection of short stories which enriches the I Am Margaret world with touching moments of brotherhood, sacrifice and devotion. I laughed, I cried, it made me think differently about life, death, heaven and hell—what more could you want from a book?
RUTH PASZKIEWICZ
Available here:
Or from your favourite retailer!