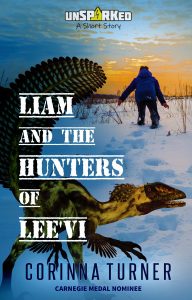 It's Christmas week, but sixteen-year-old Tam and the hunters of the Lee'Vi are out looking for a pack of Utahraptors. Instead, they find a boy staggering through the snow, on a mission to save his family. Can they find them before it's too late?
From the Carnegie Medal Nominated author of the I AM MARGARET series, this thrilling unSPARKed short story provides a pulse-pounding introduction to the series.
Paperback and Kindle: Amazon.co.uk
Paperback and Kindle: Amazon.com
Epub and other Paperback Sources
Or order it from your local Bricks & Mortar bookstore!
Includes a short sample of THE BOY WHO KNEW and BREACH!