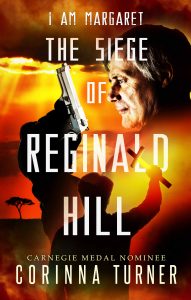 An odd surge filled my heart as I looked at him, sitting there in that chair: so old; so evil; so broken; so… alone. A warmth. A caring. A… love. I loved him. Just another poor sinner who need my care…
SAFETY IS NOT THE ABSENCE OF DANGER,
BUT THE PRESENCE OF GOD.
Fr Kyle Verrall is living a quiet life as a parish priest in Africa when he's snatched from his church one night by armed assailants. He's in big trouble—his sister's worst enemy is hell-bent on taking revenge on the famous Margaret Verrall by killing her brother, just as slowly and horribly as he can.
What could possibly save him? The humble young priest is defenceless—or so Reginald Hill believes.
But Kyle has a powerful weapon Hill knows nothing about. And he's not afraid to use it.
Is Reginald Hill really the hunter?
Or is he the hunted?
Get it HERE (U.K. Edition) or HERE (U.S. Edition)
or from your favourite retailer!
Download your free eBook here!
If you have purchased the paperback of this book you will find a download code included.
Enter the code here to get your complimentary eBook and enjoy THE SIEGE OF REGINALD HILL wherever you go!