Bring I AM MARGARET to a Stage Near You!
Margaret Verrall dreams of marrying the boy she loves and spending her life with him. But she's part of the underground network of Believers – and that carries the death penalty. But before she can be unmasked as a Believer, she fails her Sorting and is reassigned as spare parts. Bane swears to rescue her before she can be dismantled, but a chance to take on the system ups the stakes beyond mere survival. Now she has to break out of the Facility—or face the worst punishment of all: Conscious Dismantlement.
Freshly adapted for the stage by acclaimed Catholic novelist and playwright, Fiorella de Maria, the first book in the Carnegie Medal Nominated I AM MARGARET series is now a challenging 90 minute play full of adventure and suspense—and a touch of romance. If you're looking for a production that delves into the real emotional cost of martyrdom and standing up for what you believe in, this is the play for you!
Perfect for amateur dramatics groups, schools, professional theatres, or homeschooling drama groups.
If you just want to read the play or you need individual scripts for your actors and crew, choose the Standard Edition (available in Paperback, Kindle, and ePub).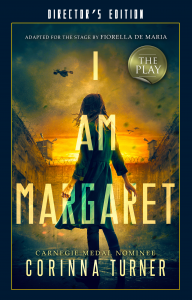 If you are staging the play and you want to print scripts yourself or share files, choose the Director's Edition. The Director's Edition of I AM MARGARET: THE PLAY can be purchased as a Paperback and includes everything you need (excluding Performance/Recording licenses):
Printing/Photocopying rights for 1 production
File-sharing rights for 1 production
eBook copy (download required)
PDF file (download required)
(File-sharing rights include uploading onto a school learning platform / intranet / VLE / private group file sharing platform for the duration of 1 production.)
Please remember that unlicensed printing/photocopying/file-sharing of playscripts is illegal.
Thank you for respecting the hard work of these authors.
If you have already purchased your Director's Edition paperback, click HERE to download your digital content.
For Performance and Licensing Fee information, click HERE.