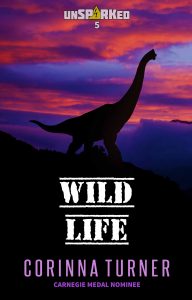 LIFE OUT HERE AIN'T A GAME. AS YOU'LL LEARN THE FIRST TIME SOMETHING GOES SOUTH.

Having avoided being separated and taken in-city, there's still a chance Darryl and Harry can rescue their father from his kidnappers. As they settle into their new life as young hunter Joshua's assistants, Josh can teach them how to handle the wildlife—but worse threats loom on the horizon.

The fifth quick-read in a fantastically fun series from the Carnegie Medal Nominated author of the I AM MARGARET books.
Paperback and Kindle: Amazon.co.uk
Paperback and Kindle: Amazon.com
Epub and other Paperback Sources
Or order it from your local Bricks & Mortar bookstore!


PRAISE FOR WILD LIFE
How I wish these books had been written when I was a child! Highly recommended action and adventure for dino enthusiasts of all ages!
KATY HUTH JONES, author of Treachery and Truth

Darryl and Harry may be safe for now, but they still have a lot to learn from the hunter Joshua about living in the wild. The stakes are rising in this unmissable new entry in the unSPARKed series, an adventurous tale of family drama, faith, and dinosaurs!
DR. LISA THEUS

A couple of teenagers trying to put their family back together… while learning how to hunt dinosaurs, and making sure that they don't end up being hunted themselves. An entertaining premise, compelling—and admirable—young characters, and skillful fast-paced writing.
Hard to put down.
MARIE C. KEISER, author of Heaven's Hunter