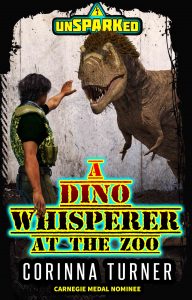 PLEASE DON'T FEED THE DINOSAURS!
A routine visit to the zoo to deliver a new velociraptor turns deadly for young hunter Joshua when an accident brings him face-to-face with an eleven foot allosaur called Gold. He knew her when she was a tiny chick – will she remember him? Is he a friend from the past – or dinner?
From the Carnegie Medal Nominated author of the I AM MARGARET series, this thrilling unSPARKed short story takes place a couple of months before the first book, DRIVE!, and provides a pulse-pounding introduction to the series – and to Joshua!
'A Dino Whisperer at the Zoo' is usually available FREE in the UK and US.
Ebook Only.
Paperback and Kindle: Amazon.co.uk
Paperback and Kindle: Amazon.com
Epub and other Paperback Sources
Or order it from your local Bricks & Mortar bookstore!
Includes a short sample of THE BOY WHO KNEW and A VERY JURASSIC CHRISTMAS.