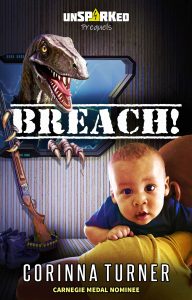 Eighteen-year-old Isaiah and his older brother Zechariah are professional hunters, earning their living culling and capturing some of the most dangerous predators ever to walk the planet.
When an out-of-control T. rex breaches a tourist resort Isaiah and Zech must act fast to save lives.
Little does Isaiah know that a testy T. rex and three packs of hungry raptors will soon be the least of his problems. A much-regretted New Year's Eve misadventure is about to cause a very different kind of breech—and change both their lives for good.
A heart-warming, pulse-pounding, pro-life adventure.
Get it HERE (UK)
Get it HERE (US)
Or paperback only from Barnes & Noble…
…or anywhere that sells books!
+
Download the FREE discussion guide for BREACH! below: