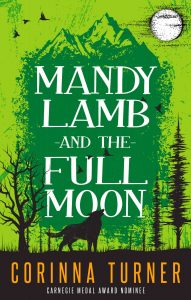 Mandy Lamb is the world's only half-sheep girl, thanks to a spot of well-meant but ill-advised genetic tinkering. She's grown up happily in the Valley of Worth with friends both ovine and human—and one who is neither.
Now she's off to senior school in the nearby town. And she's about to meet James, a rather strange orphan who smells, to Mandy, distinctly like a dog, and who has a bad habit of running off at the full moon.
With danger on the way, will James prove friend or foe?
PRAISE FOR MANDY LAMB & THE FULL MOON
"I thought Mandy Lamb would just be a fun kid's story, but it is really deep and exciting! TURNER's imagination and creativity are simply amazing, and this book takes it to a new level."
THERESA LINDEN, author of award-winning Battle for His Soul
"This highly entertaining fantasy weaves a tale of friendship, trust, & courage that will not only warm your heart but keep you flipping the pages all the way to its unexpected & pulse-pounding climax. I am amazed, yet again, by this author's talent and diversity! Anyone young at heart who enjoys a fun & inspiring animal yarn with a Christian twist is sure to love this unusual story!"
SUSAN PEEK, author of the God's Forgotten Friends series
"CORINNA TURNER takes Urban Fantasy to the countryside with the adventures of a half-sheep girl who is up for befriending anyone—even a werewolf or a vampire! A hilarious twist on familiar tropes that all ages will enjoy."
ELIZABETH AMY HAJEK, author of The Mermaid and the Unicorn
Get it HERE (U.K. Edition) or HERE (U.S. Edition)
or from your favourite retailer!
Download your free eBook here!
If you have purchased the paperback of this book you will find a download code included.
Enter the code here to get your complimentary eBook and enjoy MANDY LAMB AND THE FULL MOON wherever you go!