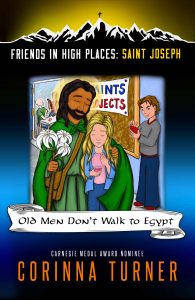 FRIENDS, POPULARITY, BOYFRIEND, CHECK.
HAPPINESS…?

Katie has everything she thinks she wants—friends, popularity, and a gorgeous athletic older boyfriend. But the more time she spends with Shaun, the more miserable she feels.
When freaky Daniel suggests Saint Joseph for her research project, her supposedly perfect life spirals out of control. Will the carpenter from Nazareth destroy everything she thinks matters—or give her even the things she didn't know she wanted?
Old Men Don't Walk to Egypt is the second book in the Friends in High Places series, but can be read on its own.

"Despite being beyond blessed as a Dominican Sister of Saint Joseph to be under his patronage, I always struggled most of all in getting to know St Joseph as a flesh-and-blood person. Seeing him through Katie's eyes has had a beautiful and unexpected impact on my own relationship with him and—finally—I've found a friend and spiritual father in St Joseph!"
– Sr. M. Catherine Bloom, OP
Epub and other Paperback Sources
Or order it from your local Bricks & Mortar bookstore!
Friends in High Places is a short fiction series that presents saints' biographies in the context of imaginary teenagers' lives. The stories are written primarily to entertain, with inspiration and education thrown in for free! The series is Parental Guidance since it contains some mature themes.