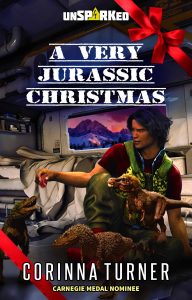 IT'S CHRISTMAS…BUT NOT AS YOU KNOW IT!
Young hunter Joshua is looking forward to a Christmas of ice-skating and fun—until the plight of a starving mamma allosaur and her chicks upends his plans. Now he and his uncle must embark on a dangerous journey south, carrying deadly passengers.
Out in the wilderness, there's no one to help them, they're running out of tranquilizers—and a killer storm is gathering.
Meanwhile, Darryl and Harry risk their lives for a holiday guest in the perilous, raptor-infested mountains. Will they survive long enough to enjoy their carol service, let alone the rest of the holiday season?
This unSPARKed prequel is a heart-warming, festive thrill ride from the Carnegie Medal Nominated author of the I AM MARGARET series.
Get it from:
Amazon.co.uk HERE
Amazon.com HERE
Other sources and formats HERE