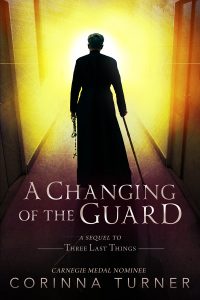 A DYING PRIEST.
A BOTCHED EXECUTION.
A YOUNG MAN ON THE BRINK.
Tomas Flores hates serving on the prison's Death Squad—and now he may be about to lose his job thanks to his actions during Carl Jarrold's hellish execution. Desperate and conflicted, where can he turn?
Father Jacob Thompson has spent decades opening his heart to convicted murderers—only to watch them die. Now his last black sheep is safely gathered in and he's ready to rest—but will the Lord let him?
If you loved the tense, "psychologically-compelling," spiritual thriller Three Last Things: or, the Hounding of Carl Jarrold, Soulless Assassin, then this heart-wrenching, emotionally-taut sequel is for you.
Buy this short novella for more high-stakes drama today!
Get it from:
Paperback and Kindle: Amazon.co.uk
Paperback and Kindle: Amazon.com
Or order from your local Bricks & Mortar Bookstore!