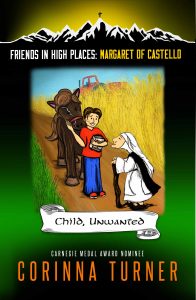 NO ONE'S ADOPTING SCARFACE. I'M NOT THAT DUMB.
Abandoned by everyone in his life and scarred from a failed abortion attempt, Miri struggles to believe his new foster family could really want him. When a devastating accident changes everything, all hope seems gone—until a young woman once equally unwanted starts visiting him in hospital. Can 'Little Margaret' teach Miri that his life is still worth living, now more than ever?

The third book in the Friends in High Places series, Child, Unwanted can be read as a standalone.
Paperback and Kindle: Amazon.co.uk
Paperback and Kindle: Amazon.com
Epub and other Paperback Sources
Or order it from your local Bricks & Mortar bookstore!

Friends in High Places is a short fiction series that presents saints' biographies in the context of imaginary teenagers' lives. The stories are written primarily to entertain, with inspiration and education thrown in for free!