– St. Joseph's story as dreamt by a sleeping teenage boy –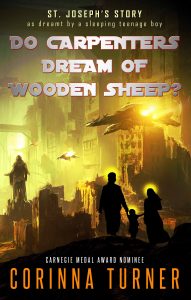 THE STORY OF ST. JOSEPH—WITH A SCI-FI TWIST!

Razim's staying overnight to help his friend Daniel, who's sick with leukaemia, but he's forgotten his phone! Lying awake after watching Bladerunner, Razim reads the only story he can find—about Joseph and Mary—only to fall asleep and find himself in futuristic Merillia.

In Merillia, his name is Cleopas, and his big brother, Jo, is considering an arranged marriage to a girl called Miryam. Soon, events are in motion that will change their lives—and the world—forever.

For anyone who feels over-familiar with the Holy Family's story after Christmas after Christmas of nativity plays, this imaginative re-telling thoroughly blows the dust off.

A standalone spin-off from Corinna Turner's 'Friends in High Places' series, it can be read on its own or in between books 1 and 2.
Paperback and Kindle: Amazon.co.uk
Paperback and Kindle: Amazon.com
Epub and other Paperback Sources
Or order it from your local Bricks & Mortar bookstore!


PRAISE FOR DO CARPENTERS DREAM OF WOODEN SHEEP?:

The friendship in action of Razim shines through, as does Daniel's deep faith in God. Razim's dream is an imaginative retelling of St. Joseph's life and should appeal to the techie gadget-loving reader. This is a story that will work with young adults male and female.
SR. TERESA CARDINEZ O.P.

A fresh and enjoyable approach to the life of St. Joseph, cleverly incorporated into a dream. The story really hit home for me on several levels.
ANDREA JO RODGERS, author of award-winning Saving Mount Rushmore

It's difficult to re-tell such an overly familiar story like Joseph's and the Nativity story, but this creative adaption gives it a fresh twist!
CAROLYN ASTFALK, author of Rightfully Ours

Really great for nerds like me!
ROBERT, age 12