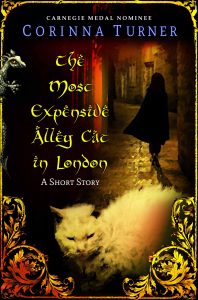 A DESPERATE URCHIN. A MYSTERIOUS STRAY. SALVATION…OR DEATH?

Young Serapia Ravena is living rough on the streets of old London, along with her dragon-like pet, Raven. Starving and desperate after a near-fatal illness, Serapia is delighted to find the meal she so desperately needs to survive—even if it's just a skinny white alley cat. But nothing about this cat is as she expects. It may provide a very different means of deliverance—or doom.

If you love tales of good and evil, compassion and survival, secret agents and dragonets, you'll love this heart-warming short story in the tradition of J.R.R. Tolkien and C.S. Lewis. 'The Most Expensive Alley Cat in London' is a standalone short story related to the novel 'Elfling,' Winner of the 2019 'Teen' CPA Book Award.

Get the story to enter Serapia's world today.
'The Most Expensive Alley Cat in London' is usually available FREE in the UK and US.
Ebook Only.
Paperback and Kindle: Amazon.co.uk
Paperback and Kindle: Amazon.com
Epub and other Paperback Sources
Or order it from your local Bricks & Mortar bookstore!