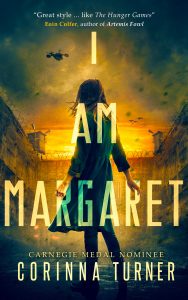 IN MARGO'S WORLD, IF YOU DON'T PASS YOUR SORTING AT 18 YOU ARE RECYCLED.
LITERALLY.
"Look, if you don't pass…" said Bane, "I'll have to see what I can do about it. Because… well… I've been counting on marrying you for a very long time, now, and I've no intention of letting anything stop me!"
Margaret Verrall dreams of marrying the boy she loves and spending her life with him. But she's part of the underground network of Believers – and that carries the death penalty.
And there's just one other problem.
She's going to fail her Sorting.
But a chance to take on the system ups the stakes beyond mere survival.
Now she has to break out of the Facility – or face the worst punishment of all.
Conscious Dismantlement.
Praise for I AM MARGARET:
Great style – very good characters and pace. Definitely a book worth reading, like The Hunger Games.
EOIN COLFER , author of ARTEMIS FOWL
An intelligent, well-written and enjoyable debut from a young writer with a bright future.
STEWART ROSS, author of THE SOTERION MISSION
This book invaded my dreams.
SR MARY CATHERINE BLOOM
Click HERE to buy the US edition Now!
Click HERE to buy the UK edition Now!
Kobo – Barnes & Noble – Smashwords – all major ebooks stores – bricks and mortar bookshops
Or click here for the US edition.
Paperback: ISBN 978-1-903858-04-2
ePub: ISBN 978-1-903858-05-9
Click here for the 'Picky Parents Guide to I AM MARGARET' from Chesterton Press (the U.S. Distributor). 
Download your free eBook here!
If you have purchased the paperback of this book you will find a download code included.
Enter the code here to get your complimentary eBook and enjoy I AM MARGARET wherever you go!