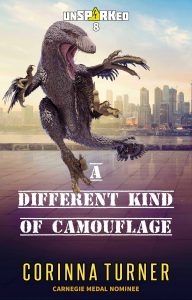 JOSH, WHERE ARE YOU? ARE YOU ALIVE?

Farm kids Darryl and Harry have experienced the freedom—and dangers—of life as hunters for almost a year while traveling with Josh.
But the authorities have finally caught up with them. Taken to the city against their will, they must both swap wildlife and open skies for concrete and fumes.
In the face of inflexible bureaucrats and ever-watchful social workers, can they remain faithful to their identity and hold onto their hope that one day they will live free again—and be reunited with those they love?

From the Carnegie Medal Nominated author of the I AM MARGARET books, adventure lovers will love this fast-paced, fantastically fun series, which has been compared to Jurassic Park and Mad Max.

When hunter Josh was teaching Darryl and Harry survival skills, I'm sure the resourceful teens didn't expect those lessons to come in handy while living trapped inside a different kind of cage in the "safe" city! Heart-rending but very inspiring!
KATY HUTH JONES, author of Treachery and Truth
Get it now!
Click HERE for a choice of sources and formats.