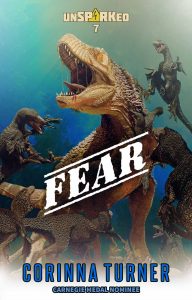 WE HAVE TO REACH THE HABITAT VEHICLE—OR DIE.

After breaking into Jason's illegal rex farm to hunt for their kidnapped dad, farm-teens Darryl and Harry, along with young hunter Joshua, have taken extreme measures to escape capture by Jason. But with Darryl now lost in the dark mountains and Josh badly injured, their troubles are far from over. Yet the greatest threat to their survival may be the fears they carry within.
FEAR is the seventh quick-read in award-winning author Corinna Turner's unSPARKed series. If you like Jurassic Park, Jurassic World, and Mad Max, you'll love this pulse-pounding, futuristic, dino-dystopian series with a western twist.
Continue the adventure today!
Get it now!