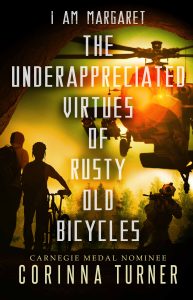 In a dystopian future, an innocent picnic turns deadly.

Margo and Bane have the perfect Saturday planned out – a bike ride, a train ride, a nice picnic…
But when they're mistaken for terrorists, the army are after them with lethal force.
Can two teenagers evade a massive manhunt?
Their lives, and those of their families, depend on it.
'The Underappreciated Virtues of Rusty Old Bicycles' is usually available FREE in the UK and US.
Ebook Only.
Paperback and Kindle: Amazon.co.uk
Paperback and Kindle: Amazon.com
Epub and other Paperback Sources
Or order it from your local Bricks & Mortar bookstore!

This prequel short story was first published in the anthology SECRETS: VISIBLE & INVISIBLE by Catholic Teen Books in 2018.