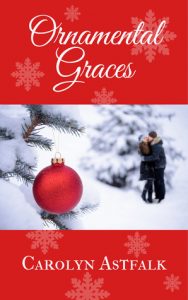 I don't read a huge amount of romance and I enjoyed this way more than I was expecting to. In fact, I was blown away by how good it was. Dan and Emily have a long and difficult road to happiness and I kept looking at the progress bar and going, 'what the? I'm only 20% through. What the? I'm only 50% through! How much more are they going to have to go through before they're together!' BUT I wasn't looking at the progress bar in an 'I'm bored, hurry up' sense, just a wondering, in-sympathy-with-the-characters sense.
I think I'm used to short formulaic romances where the requisite few road bumps are hit, overcome, and everything wrapped up all in a concise bundle. I really, really liked the fact that this novel walked the long road with the couple, that it wasn't clean and quick, but messy and realistic and difficult, but they persevered and they made it (hardly a spoiler, I think, for a romance!). I imagine some readers might get bored and call it slow, but I was engrossed, and it made the pay-off way more satisfying. This had very much the deep, satisfying feel of 'Intermission' by Serena Chase and I'd be hard put to say which I enjoyed more.
For Christians who read widely in secular fiction, this will be a warm, refreshing, inspiring read. Christians who've been on a diet of more exclusively Christian fare may find the outlook of the main characters a mite sensual for their taste. They're well written, and realistically portrayed, and they're trying so hard, which is inspiring, but they don't, shall we say, always engage in thoughts and behaviour best calculated to help them with their goal of waiting for marriage. I'd be reluctant to give this to a sheltered teen reader, for example, but that's hardly the target audience.
I should note that the cover and blurb present this as a 'Christmas' novel, but that's unnecessarily limiting. It's an excellent all year round romance, so dive in at any time!
Get it HERE.
[I'm acquainted with the author through an author group, but have freely chosen to review this book. Opinions are my own.]