I've been terrible about updating my site this year, so here are my 2021 releases all in one post!
BRAND NEW RELEASE! A SAINT IN THE FAMILY (November 2021) – I Am Margaret book 7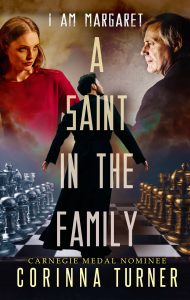 FAITH.
FORGIVENESS.
FREEDOM.
Fr. Kyle Verrall has lived his life in the shadow of his famous sister, Margaret—and that's fine by him. But after his kidnapping by Reginald Hill, he must learn to cope not only with his physical injuries, but also with his unwelcome new popularity. Meanwhile, Margaret continues her fight for true democracy. But can she practise what she preaches and forgive her oldest enemy?
This volume contains two novellas, A SAINT IN THE FAMILY and PERSISTENCE, which follow on from the events of THE SIEGE OF REGINALD HILL. It also includes five short stories.
PRAISE FOR A SAINT IN THE FAMILY
A very powerful collection. I do not produce a lot of tears, but this volume brought me to tears more than once. Persistence had the deepest impact on me. I have really struggled to forgive my mother. And it was almost 8 years after she passed before I had Masses said for her. It was a book by Theresa Linden, Tortured Soul, which softened my heart, and started a healing process. The story Persistence has softened it a lot more.
STEVEN R. MCEVOY, blogger, BookReviewsAndMore.ca
A fantastic collection of short stories which enriches the I Am Margaret world with touching moments of brotherhood, sacrifice and devotion. I laughed, I cried, it made me think differently about life, death, heaven and hell—what more could you want from a book?
RUTH PASZKIEWICZ
Available here:
Other sources & formats (some may still be coming online so you may need to search manually on the site)
WILD LIFE (September 2021) – unSPARKed book 5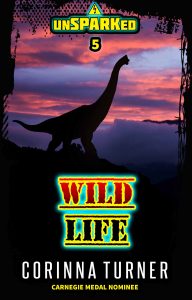 LIFE OUT HERE AIN'T A GAME. AS YOU'LL LEARN THE FIRST TIME SOMETHING GOES SOUTH.

Having avoided being separated and taken in-city, there's still a chance Darryl and Harry can rescue their father from his kidnappers. As they settle into their new life as young hunter Joshua's assistants, Josh can teach them how to handle the wildlife—but worse threats loom on the horizon.

The fifth quick-read in a fantastically fun series from the Carnegie Medal Nominated author of the I AM MARGARET books.

PRAISE FOR WILD LIFE
How I wish these books had been written when I was a child! Highly recommended action and adventure for dino enthusiasts of all ages!
KATY HUTH JONES, author of Treachery and Truth

Darryl and Harry may be safe for now, but they still have a lot to learn from the hunter Joshua about living in the wild. The stakes are rising in this unmissable new entry in the unSPARKed series, an adventurous tale of family drama, faith, and dinosaurs!
DR. LISA THEUS

A couple of teenagers trying to put their family back together… while learning how to hunt dinosaurs, and making sure that they don't end up being hunted themselves. An entertaining premise, compelling—and admirable—young characters, and skilful fast-paced writing.
Hard to put down.
MARIE C. KEISER, author of Heaven's Hunter
Available here:
CHILD, UNWANTED (MARGARET OF CASTELLO) (September 2021) – Friends in High Places book 3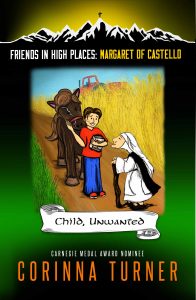 NO ONE'S ADOPTING SCARFACE. I'M NOT THAT DUMB.
Abandoned by everyone in his life and scarred from a failed abortion attempt, Miri struggles to believe his new foster family could really want him. When a devastating accident changes everything, all hope seems gone—until a young woman once equally unwanted starts visiting him in hospital. Can 'Little Margaret' teach Miri that his life is still worth living, now more than ever?
The third book in the Friends in High Places series, Child, Unwanted can be read as a standalone. The series is Parental Guidance since it contains some mature themes.
Friends in High Places is a short fiction series that presents saints' biographies in the context of imaginary teenagers' lives. The stories are written primarily to entertain, with inspiration and education thrown in for free!
Available here:
OLD MEN DON'T WALK TO EGYPT (SAINT JOSEPH) (June 2021) – Friends in High Places book 2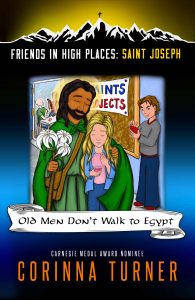 FRIENDS, POPULARITY, BOYFRIEND, CHECK.
HAPPINESS…?
Katie has everything she thinks she wants—friends, popularity, and a gorgeous athletic older boyfriend. But the more time she spends with Shaun, the more miserable she feels.
When freaky Daniel suggests Saint Joseph for her research project, her supposedly perfect life spirals out of control. Will the carpenter from Nazareth destroy everything she thinks matters—or give her even the things she didn't know she wanted?
Old Men Don't Walk to Egypt is the second book in the Friends in High Places series, but can be read on its own. The series is Parental Guidance since it contains some mature themes.

"Despite being beyond blessed as a Dominican Sister of Saint Joseph to be under his patronage, I always struggled most of all in getting to know St Joseph as a flesh-and-blood person. Seeing him through Katie's eyes has had a beautiful and unexpected impact on my own relationship with him and—finally—I've found a friend and spiritual father in St Joseph!"
– Sr. M. Catherine Bloom, OP

Friends in High Places is a short fiction series that presents saints' biographies in the context of imaginary teenagers' lives. The stories are written primarily to entertain, with inspiration and education thrown in for free! 
Available here:
DO CARPENTERS DREAM OF WOODEN SHEEP? (May 2021) – A Friends in High Places story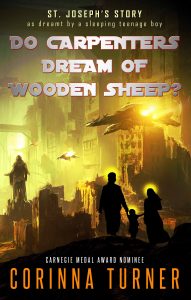 THE NATIVITY STORY—WITH A SCI-FI TWIST!

Razim's staying overnight to help his friend Daniel, who's sick with leukaemia, but he's forgotten his phone! Lying awake after watching Bladerunner, Razim reads the only story he can find—about Joseph and Mary—only to fall asleep and find himself in futuristic Merillia.

In Merillia, his name is Cleopas, and his big brother, Jo, is considering an arranged marriage to a girl called Miryam. Soon, events are in motion that will change their lives—and the world—forever.

For anyone who feels over-familiar with the story of St. Joseph and the Holy Family after Christmas after Christmas of nativity plays, this imaginative re-telling thoroughly blows the dust off.

A standalone spin-off from Corinna Turner's 'Friends in High Places' series, it can be read on its own or in between books 1 and 2.

PRAISE FOR DO CARPENTERS DREAM OF WOODEN SHEEP?:

The friendship in action of Razim shines through, as does Daniel's deep faith in God. Razim's dream is an imaginative retelling of St. Joseph's life and should appeal to the techie gadget-loving reader. This is a story that will work with young adults male and female.
SR. TERESA CARDINEZ O.P.

A fresh and enjoyable approach to the life of St. Joseph, cleverly incorporated into a dream. The story really hit home for me on several levels.
ANDREA JO RODGERS, author of award-winning Saving Mount Rushmore

It's difficult to re-tell such an overly familiar story like Joseph's and the Nativity story, but this creative adaption gives it a fresh twist!
CAROLYN ASTFALK, author of Rightfully Ours

Really great for nerds like me!
ROBERT, age 12
Available here:
A CHANGING OF THE GUARD (March 2021) – Last Things book 2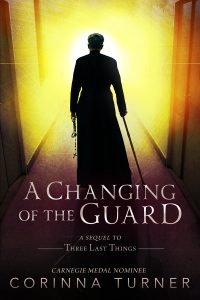 A DYING PRIEST.
A BOTCHED EXECUTION.
A YOUNG MAN ON THE BRINK.
Tomas Flores hates serving on the prison's Death Squad—and now he may be about to lose his job thanks to his actions during Carl Jarrold's hellish execution. Desperate and conflicted, where can he turn?
Father Jacob Thompson has spent decades opening his heart to convicted murderers—only to watch them die. Now his last black sheep is safely gathered in and he's ready to rest—but will the Lord let him?
If you loved the tense, "psychologically-compelling," spiritual thriller Three Last Things: or, the Hounding of Carl Jarrold, Soulless Assassin, then this heart-wrenching, emotionally-taut sequel is for you.
Available here:
'Liam and the Hunters of Lee'Vi' (February 2021) – An unSPARKed short story

It's Christmas week, but sixteen-year-old Tam and the hunters of the Lee'Vi are out looking for a pack of Utahraptors. Instead, they find a boy staggering through the snow, on a mission to save his family. Can they find them before it's too late?
From the Carnegie Medal Nominated author of the I AM MARGARET series, this thrilling unSPARKed short story provides a pulse-pounding introduction to the series.
Available here:
My final 2021 release was a short story contribution to the anthology TREASURES: VISIBLE & INVISIBLE which got its own blog post.