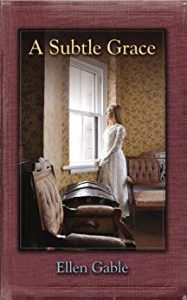 Late nineteenth-century teenager Kathleen O'Donovan cannot wait to marry. She's already 19, and dreads being an old maid! Although her parents urge patience, she rushes headlong into courtship with the first man to take a fancy to her, whilst newcomer to the town, young doctor Luke, shyly admires her from afar. Meanwhile, her brother Will feels a different calling stirring in his heart. But unknown to him, secrets lie hidden in his past. Will they steal his dream away from him?
I thoroughly enjoyed this period romance drama, often having trouble putting it down. I love the way we get to know all the main characters so thoroughly, and the gentle, slow-building romance between Kathleen and her true love. The book also makes it clear that any form of sexual assault can have devastating consequences for a woman's confidence.
One character's plotline has a very unexpected twist/revelation near the end, which makes the—in other ways predictable (though nonetheless satisfying)—showdown all the more poignant and gripping.
Get it HERE.