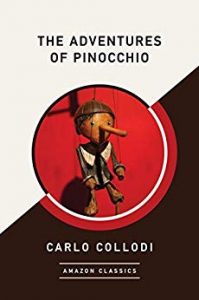 To be honest, I struggled with this book. I found the main character incredibly frustrating. He almost always did the wrong thing. I mean, almost ALWAYS. Well, people sometimes do (including me!), but what he does is also almost always incredibly stupid. Well, again, people do stupid things (including me!), and the main character is, after all, a puppet who is only moments old at the beginning of the book, so how is he to know better? Fair question, but still, I found the book hard work. He just did not seem to learn from his mistakes.
Admittedly, the dire catalogue of largely self-inflicted misadventures does make the ending all the more touching and satisfying. If you can make it that far.
The thing that struck me most about the book was actually the strong pro-life message it sends. A man gets a log of firewood out of which to carve a puppet. Said puppet promptly—and unexpectedly—comes to life. The man unhesitatingly regards the puppet as his son, and right from the get up and go begins to sacrifice his own needs and comforts for the puppet's well-being and advancement. He continues to do so throughout the entire book, despite the puppet turning out to be one of the most foolish, thoughtless, and selfish sons imaginable. Regardless, the man remains unwavering in love for his unplanned child, showing a perfect example of what a good father (or mother) should be.
Perhaps it says something about our time—and the time in which the book was written—that this should strike me so. When the book was written, an unexpected pregnancy was an unexpected baby, no question. Nowadays only expected pregnancies are 'babies', unexpected ones are merely 'tissue' that can be disposed of. If Pinocchio was written today, it might well be a much shorter book. The old wood carver would probably be shown terminating his unexpected responsibilities by putting the mere 'wood' straight on the fire the moment it began to—oh so inconveniently—move.
You can get it HERE.