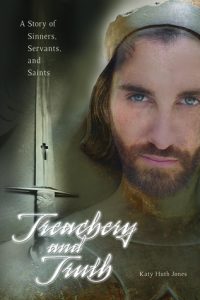 I've been looking forward to reading this historical saint story, and I wasn't disappointed. I really didn't know much about King Vaclav (Wenceslaus), even struggling to recall the words of the carol, so it was nice to learn more about him.
I liked the characters, especially Vaclav and Poidevin his servant (through whose eyes the story is told). I thought telling the reader at the outset what happens at the end might reduce the tension, but as it turns out there is one more big twist at the end that is unexpected.
I did feel Vaclav was perhaps presented as a little unrealistically 'saintly' and could have come across more human. On the other hand, we're seeing the story through the eyes of a freed slave whom Vaclav has taught to read and treated as a brother, so the aura of perfection/hero-worship in how Poidevin sees Vaclav is actually very convincing.
SPOILER ALERT
I had a bit of a niggle with the way the martyrdom was presented at the end. I seriously wanted to pin Vaclav to a wall and give him a lecture on his duties and responsibilities as a husband, father, king, and master. He seems to totally drop the ball on all those things, with catastrophic results. A Christian is not supposed to seek martyrdom, and I'd have liked to either see his stubborn determination to put himself in that position explained/made acceptable by him feeling a strong specific calling from God to do so, or I'd have liked him to be genuinely taken in by his brother (as was probably the case historically). Clearly knowing that his brother wasn't necessarily to be trusted but doing it anyway came across as plain irresponsible.
My other niggle was that the focus on his brother when it came to his martyrdom really obscured his martyr-status. I actually caught myself thinking, after finishing the book, 'Of course, he was a saint, but he wasn't actually a martyr, because he was simply killed by an envious brother.' And then I was like, 'Hang on! He WAS a martyr, he was actually killed by pagan nobles who didn't want a Christian on the throne, of whose number his brother was just one.' So that really didn't work well for me.
Other than that one scene, I really enjoyed the book. I loved how the author worked the events of the Christmas carol into the story, and the way she showed what it was like to live under the old pagan religion. After so many centuries of Christianity it's very hard for us in the West to understand what such religions can be like, so that was particularly interesting.
Overall, a great read for teens and adults, and, needless to say, a great Christmas gift!
Get it HERE.
[I am acquainted with the author through an author group but bought my own copy of this book to review. Opinions are my own.]